Bean Counter's
Bookkeeping Explained Course
Hello my name is Dave and yes I'm a bean counter. No I didn't say alcoholic, that's a soft drink not a beer in my hand, and this is not a meeting of Alcoholics Anonymous. For those of you that don't know a bean counter is slang sometimes used to refer to a bookkeeper or accountant.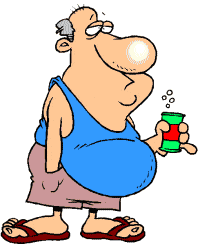 Who is this Course for ?
This introductory bookkeeping course is geared to business owners, managers, and individuals who have not had any formal bookkeeping training or on the job experience and need or want to learn the basics of bookkeeping and accounting. Oh by the way, you can teach an "ole" dog new tricks. In other words, this accounting and bookkeeping lecture series is for beginners (newbies) or those needing a quick refresher and is only an introduction into the world of bookkeeping and accounting. They say a little knowledge is a dangerous thing. Well, my goal is to make you dangerous.

What's This Course About ?
Bookkeeping Of Course ! Five free Bookkeeping Lessons explain and illustrate what's involved in "keeping the books". While accounting and bookkeeping software have made the task of recording and summarizing financial information easier and faster, it's still good to know what's actually being done "behind the scenes" by the software. These five lessons explain and illustrate what's involved in bookkeeping using the "ole fashion" manual bookkeeping system and procedures. These same tasks are now commonly performed using computers and accounting software; but, bookkeepers still need to know how a manual system works in order to properly use accounting and bookkeeping software.
Like explaining what makes a car run (the engne), this course is designed to show you what makes bookkeeping "run".
This
Basic Bookkeeping Course
is made up of an Introduction to Bookkeeping Video along with four videos that explain basic accounting and bookkeeping concepts.
In addition, a free
Bookkeeping Basics Textbook
that includes
ALL the Lessons
of the course is provided. I recommend, before getting started, to download the Complete Textbook to
use with each lesson. Each lesson also gives you the option of just downloading the individual chapter of the course as a PDF or you can download the individual chapters here
.
I've also provided a zip file that you can download the Complete Textbook and the Individual Chapters.
I've provided you with the Option of Viewing the Slideshow online courtesy of Scribd where you have complete Control of the Presentation.
You also have the
option
of downloading a zip file that contains all the
Power Point Presentations
that you can view on your computer without an internet connection if you have Microsoft's Power Point application. If you don't have Power Point, you can download, for free, Libre Office Suite's Impress Application to view the presentations off line.
Free LibreOffice
Introduction-Quick Summary of Bookkeeping
Bookkeeping Defined

Profits & Losses

Bookkeeping Records

Transactions

Accounts
Accounting Basics, Part 1
Business Types

Professional Advice

Accounting and Records

Accrual Accounting

Basic Bookkeeping

Chart Of Accounts

Double-Entry Bookkeeping

Debits & Credits

Journals




General Ledger
Accounting Basics, Part 2

Accounting Cycle

T-Accounts

Adjustments

Trial Balances
Accounting Basics, Part 3
Income Statement

Balance Sheet

Financial Analysis
Accounting Terms & Definitions, Part 4
Defines common bookkeeping terms and concepts.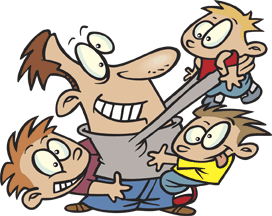 Cartoons are used to add a bit of humor to your Learning Experience. Who says that Learning Can't Be Fun ? Not Me !
After completing this course, you should know or be able to perform the following:
Understand what accounting and bookkeeping is, why it's important, and the key terms needed to discuss and properly use financial information.
Understand what makes bookkeeping "work":

Accounts/Chart Of Accounts




Accounting Equation(s)




Double Entry Accounting System




Debits and Credits




Rules




Formal Records and Documents




Accounting Cycle
How to analyze and record transactions using the formal financial records such as Journals and the General Ledger.
What Financial Statements are and how they are prepared and used.
The Vertical Menu on the Left Side Of The Page contains the Lessons / Sections for Each Lesson.
In some cases, you may need to Scroll Down the Page to select the Lesson / Section.
Each Lesson / Section has Buttons at the Bottom of the Page to use for
Moving Back
to Prior Lessons / Sections and
Moving Forward
to the Next Lesson/ Section.
Approximately 1 Hour Per Lesson
This is left strictly up to you.
Just Watch all the Videos

Watch the Video and follow along with the PDF Textbook

Download The Powerpoint Presentations and View Offline

The following Learning Aids are included in order to help you to understand the accounting and bookkeeping concepts discussed in this accounting course:
Acronymn - Easy Way of Remembering
the Types Of Accounts
Watch the Video for additional Help !
Major Types Of Accounts & Relationships-
Diagram
Acronymn - Easy Way of Remembering
the Types Of Accounts and Debits & Credits
Acronym - Easy Way of Remembering the Types Of Accounts
and Debits and Credits
Sample Balance Sheet Accounts
Sample Income Statement Accounts
Basic Bookkeeping Concepts Textbook
Bookkeeping Glossary - Terms
& Definitions
Debits & Credits Cheat Sheets
Help on determining when to Debit or Credit
Special Journals -
What Journal To Use
Posting Process Flow Chart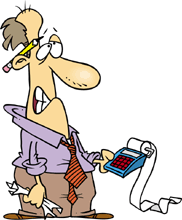 Let's begin our Journey into the World Of Bookkeeping !
Cartoons on this site provided by Ron Leishman. All Toon images are copyright © . No images may be resold or redistributed without prior written permission from Ron Leishman. If you enjoyed them, get some of your own
Toon-A-Day
. Videos courtesy of Professor Dave Alldredge.
The information provided on this site is not intended to provide or be a substitute for specific individualized accounting, tax, legal, business, or investment planning advice. Where specific advice is necessary or appropriate, Bean Counter recommends consultation with a qualified tax advisor, CPA, Financial Planner or Investment Manager. The information provided herein is for general informational purposes only and should not be considered an individualized recommendation, personalized investment advice or an endorsement by Bean Counter. The information presented is obtained from what are considered reliable sources; however, its accuracy, completeness or reliability cannot be guaranteed and therefore should not be relied upon as such. Bean Counter accepts no liability for any direct or consequential loss arising from any use of this information.
Bean Counter and their affiliated parties make no representation regarding sites that you might access from this site and are not liable for any damages that you incur from their use.